Free Photoshop layer style to get this sweet Twitter button
Ever since the official Twitter application for Mac came out I've been drooling over the lovely blue "Tweet" button. So I thought about producing a layer style in Photoshop to replicate the effect.
Below you can see original "Tweet" button and the preview of the downloadable file at the top of the post, on both a light and dark background. It looks pretty sweet on a light background as well!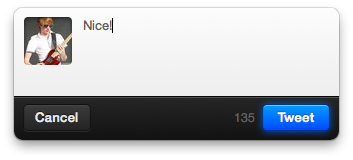 You can download and start applying the blue glow to any of your favourite button shapes! Simply right click on the button layer, copy the layer style and paste it onto another layer with a nice looking button shape on.
If you found this useful, please give it a mention!