What I'd like see included in Coda, by Panic
Earlier on today, I got a reply on Twitter from @panic asking what I'd like to see in their  already wonderful OSX IDE, Coda. Now, I'm not one to waste an opportunity so I thought I'd note down a few things I'd like to see in future versions of Coda.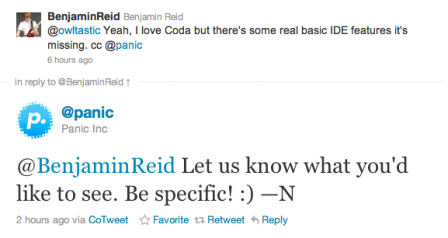 So, specific I will be...
Better code completion
Anyone working with variables (which is obviously very common in web development!) will know that once your document is larger than your screen it's a pain to keep scrolling back up and trying to remember variable names - so being able to type "$" and a list of variables that are set on the page appear, would be very welcome.
Another major part of code completion that I'd like to see is when writing classes, or within a framework like CodeIgniter, all classes, functions, methods get picked up. As soon as you start tying these pop up to help you on your way.
Example of PhpED's code completion
Creating workspaces and projects
This is something I'd love to see. Being able to create a workspace, which you can assign an FTP connection to. Inside this workspace you can create multiple projects that can then have different live roots to the workspaces FTP connection. Basically allowing to easily manage sites that are set up to have a staging and live environments.
At the moment this requires creating two sites in Coda and it's just messy, especially when FTP details have to change.
Code folding
Does what is says on the tin, but here's a good example.
Well that's just a few for now, if anyone's got any to add in the comments, please do and hopefully the lovely guys at Panic will have a read and perhaps take some of these ideas into consideration.