New icons added to the 'Social Media Bookmark +' icon pack! Featuring 113 socialicious icons!
I told you it was coming, better late than never 'ey? After digging through your suggestions (literally 100's of comments) I've updated the pack with the most popular suggestions. The pack now totals 113 icons with 43 different social networks or a like websites and services. So first I'd like to say thank-you to everyone who has downloaded, spread the word, commented and stuck them on your site.
On a small side note, the larger buttons (that have 'SHARE' on) have been dropped from production, though if you still require a similar button that isn't in the pack, please use the contact form to request the icon you would like.
Got WordPress?
What's in the 'Social Media Bookmark +' icon pack now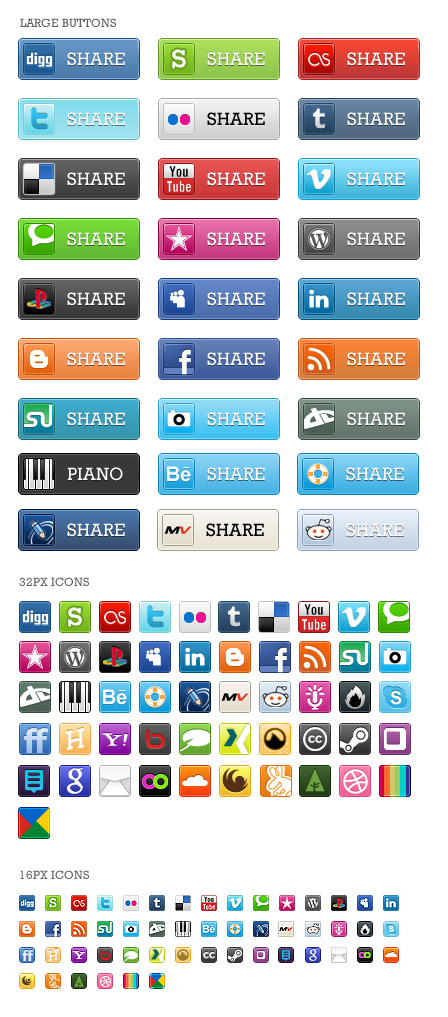 You can still submit ideas
Suggest an icon to me on Twitter with the #SMicon hashtag! If you click here, it'll auto-magically set it up for you! Just fill in the blanks.
Keep track of 'em
To keep track of updates please follow me on Twitter and you'll be first to know.
Where can you use them?
You can use them anywhere you like, absolutely anywhere, anything. No attribution, 100% free. If you use them, please let me know!
Alternative uses
Darkain Multimedia has created a WordPress plugin and a JavaScript widget that utilises these icons!