New additions to the 'Social Media Bookmark +' icon pack – inc' Gowalla, Dribbble & Forrst
This has been a little bit of a long time coming but I've been and still am so busy! Not that I'm complaining. Anyway down to the nitty gritty, here's what's in the update. I've added the following in both 16px and 32px sizes: Buzz, Dopplr, Dribbble, Forrst, Gowalla, Playfire, Soundcloud, Wakoopa.
The entire set now standing at 129 icons for you to use anywhere for absolutely free, with no attribution!
Suggest an icon to me on Twitter with the #SMicon hashtag! If you click here, it'll auto-magically set it up for you! Just fill in the blanks.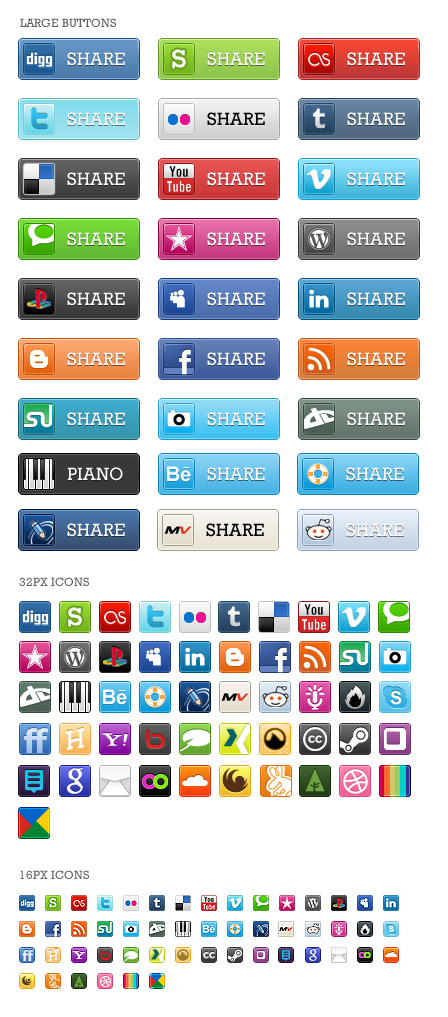 Twitter
Facebook
YouTube
Flickr
Delicious
Digg
lastFm
StumbleUpon
TwitPic
WordPress
RSS
Vimeo
PlayStation
Spotify
Added 15.06.2009
Tumblr
Piano
Added 14.07.2009
MySpace
LinkedIn
Social Vibe
Added 27.07.2009
Blogger
Technorati
DeviantART
16px icons and buttons added 01.08.2009
Added 10.08.2009
Behance
Design Float
Live Journal
MegaVideo
Reddit
Added 05.01.2010
Audioboo
Ember
Skype
FriendFeed
Hyves
Yahoo!
Bebo
TypePad
Xing
Grooveshark
CreativeCommons
Steam
DailyBooth
Lockerz
Google
Email
Added 29.06.2010
Buzz
Dopplr
Dribbble
Forrst
Gowalla
Playfire
Soundcloud
Wakoopa