Free 'Social Media Bookmark Icon +' pack, the ever growing icon set
Hate or love social media sites, they do bring you visitors to your site and the best way to do that is to show them what websites you are supporting. So I've designed the first 14 social media bookmark icons that you can download and use wherever you like, for free as well!
Got WordPress?
What you get when you download the pack today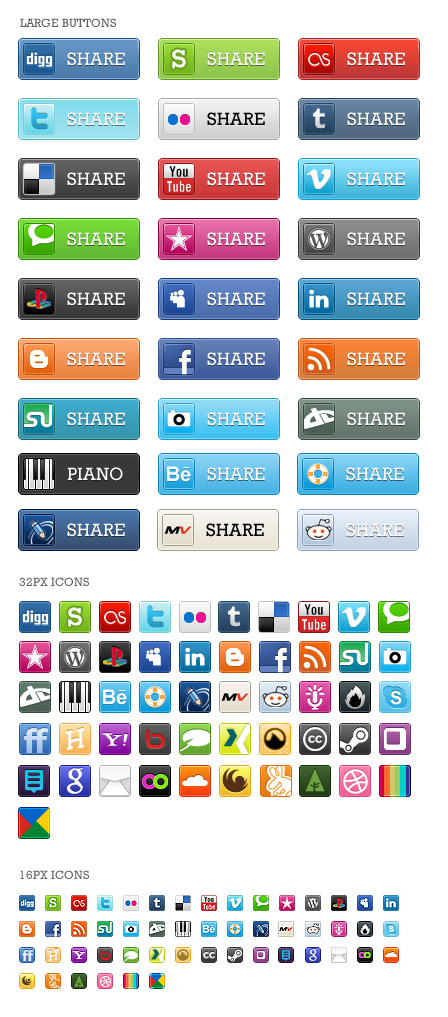 Twitter
Facebook
YouTube
Flickr
Delicious
Digg
lastFm
StumbleUpon
TwitPic
WordPress
RSS
Vimeo
PlayStation
Spotify
Added 15.06.2009
Tumblr
Piano
Added 14.07.2009
MySpace
LinkedIn
Social Vibe
Added 27.07.2009
Blogger
Technorati
DeviantART
16px icons and buttons added 01.08.2009
Added 10.08.2009
Behance
Design Float
Live Journal
MegaVideo
Reddit
Added 05.01.2010
Audioboo
Ember
Skype
FriendFeed
Hyves
Yahoo!
Bebo
TypePad
Xing
Grooveshark
CreativeCommons
Steam
DailyBooth
Lockerz
Google
Email
Added 29.06.2010
Buzz
Dopplr
Dribbble
Forrst
Gowalla
Playfire
Soundcloud
Wakoopa
Suggest an icon to me on Twitter with the #SMicon hashtag! If you click here, it'll auto-magically set it up for you! Just fill in the blanks.
What's the '+' for? The ever growing icon set!
As everyone has their preferred network sites it's hard to cover all bases, so this icon set has the ability to grow into the complete social bookmarking set, but only with your help. Here's how you can help.
First, download the icon set.
Next leave a comment stating what social sites you'd like to see in the set
Your email will then be added to the 'Social Media Bookmark Icon +' subscription list.
Then once a user suggested icon is complete, it will become available on the site and you will be notified.
If you wish to un-subsribe please send an email to to me with 'un-subscribe icon' in the subject.
Alternative uses
Darkain Multimedia has created a WordPress plugin and a JavaScript widget that utilises these icons!