The Droplets have arrived!
Droplets you say?
If you have no clue as to what I'm talking about, here's a little introduction - prepare to be hooked. Droplets are small ( "Standing just 2.5 inches tall" ) vinyl toys created by Gavin Strange ( Find him on Twitter or check out his website ). What makes Droplets stand out? Their brilliant design; the faces on these babies just oozes cute-ness! You can find them in five different colours or flavours, Green "Apple Sour", Yellow "Rhubarb & Custard", Blue "Refresher", Red "Campino" and the rare Black "Vimto", I used to love that stuff! Each flavour has their own unique expression which can change depending on which whey they are sat.  Head over here to find out more about Droplets.
My first encounter
I found out about Droplets from a good friend of mine, he hit me up on to Gavin's website which got me instantly hooked despite having no previous interest in vinyl toys. After discovering a bit more about them I decided to take a punt when the next batch were released into the wild. As soon as they went on sale I purchased 5 and then hoped for the best. As Droplets come in blind boxes, I had no idea what colours I was going to get.
The booty had arrived!
It had been a agonising two week wait before the little blighters turned up in a Jiffy bag but a massive thanks to Gavin as he hand packs every single one! After carefully opening up my parcel I was greeted by an envelope with "Thanks!!" hand-written across the front and my first five blind boxes.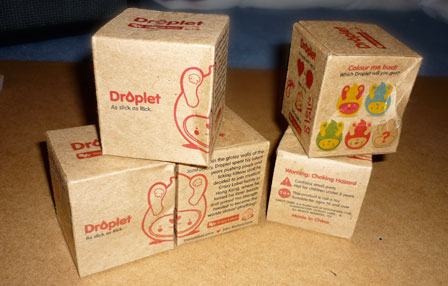 I opened up the envelope first, the card before the present right? Inside was a load of lovely stickers, postcards and badges which are now stuck and pinned around my desk.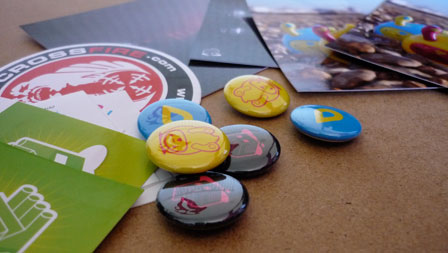 I was being very careful to open each and every box, you'd think I was disarming a bomb! It was so suprisingly exciting to have no idea what flavour would be inside! After you break through the sharply designed boxes, you're greeted with various messages that tease you even more which is just pure genius.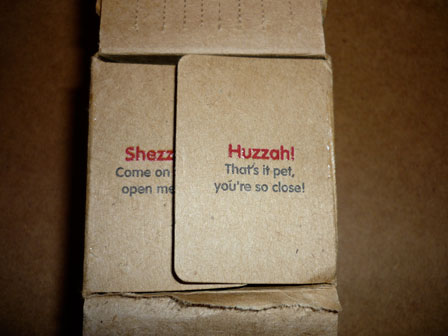 Even after you've torn through the box you still don't know what you've got!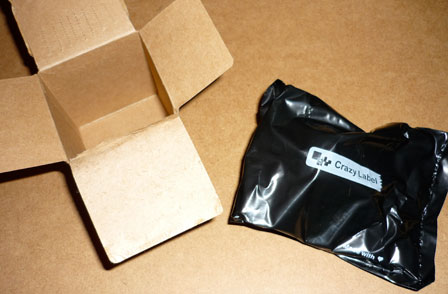 Result!
After a good ten minutes of opening I'd ended up with a Blue, Yellow, two Green's and a Black. I was overwhelmed to get four out of the five first time round. Take a look at them in all their glory below.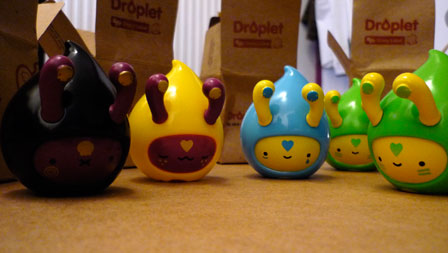 But that's not the end of it, I headed over to Twitter to message Gavin that I'd managed to nab four different colours first time round. As soon as he knew I was missing Mr.Campino he put a shout out to see if anyone wanted to swap my spare Green one for their beloved Red one. Within minutes CSFX had come to back to me offering to swap. I sent my Droplet off and just a day later CSFX's Red Droplet had arrived at work, great! Now there's me brandishing a big smile that I'd managed to complete the set but of course this wouldn't be true without Gavin's and CSFX's kind-ness. So here's a shot of the full bunch below.