Droplet series 1 and 2 icon pack
Here are 10 unique and yummy Droplet icons that you can download and stick where you like to show off your lovely Droplet collection! Each icon is handcrafted to a 48 pixel PNG and is bursting with colour. Featuring both series 1 and the eagerly awaited series 2. The king Droplet in purple comes with and without his crown, so 11 icons in total.
This is my small contribution towards the #dropletlaunch. Many thanks to Gavin Strange for all his amazing efforts through series 1 and 2. I look forward to attending the launch down in Bristol!
Update:
Droplets are popping up all over the place!
I just want to say thanks for all your kind words in relation to the Droplet icons!
Tumblr
Cheers @DavidDarnes for the mention on here.
Twitter
These lovely Twitter peeps have adopted the Droplets as their Twitter avatars, why didn't I think of that?! Thanks to: @mcquinny @_Jellybox @JamFactory @jakeivill @stickypop @WilliamPotter @russzoran @sdmix @AnnaSangha & @Atomicmousegirl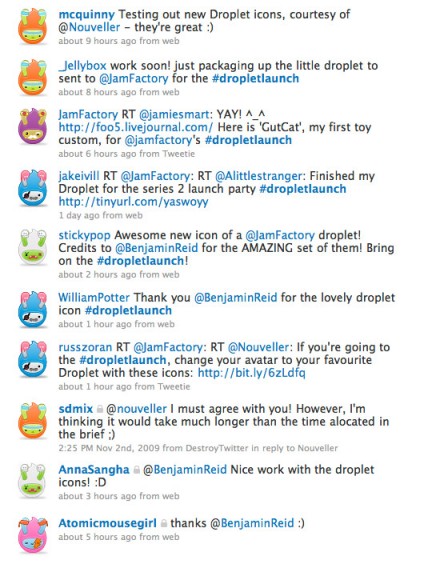 JamFactory
I'm truly honoured to be mentioned on Gavin's blog, thanks so much dude!
Facebook
If you haven't already, get on the Droplet Facebook page.